Welcome 2021 !
The past year was one we'd all like to forget, and the new year is off to a shaky start. Given the pandemic uncertainties that persist, we don't yet know if the Memorial Plaza dedication, which is still scheduled for Goodfellow AFB on 29 April, will be a go. We expect an update shortly from our paver bronze plaque supplier as well. We'll pass along the latest on both these fronts as soon as we have it, so check back often. Click here for complete details on the plaza and the on-line order form.
Here at EC-47 History Site HQ, we're still very much open for business. We had some interesting additions to close out 2020 and we're always looking for more. So dust off those old photo albums, jot down some memories of your SEA tour, and send 'em in! Meanwhile, the recent passing of baseball legend Tommy Lasorda revealed a bit of historical trivia we bet not many of you former "back enders" knew about.


Tommy Lasorda at Goodfellow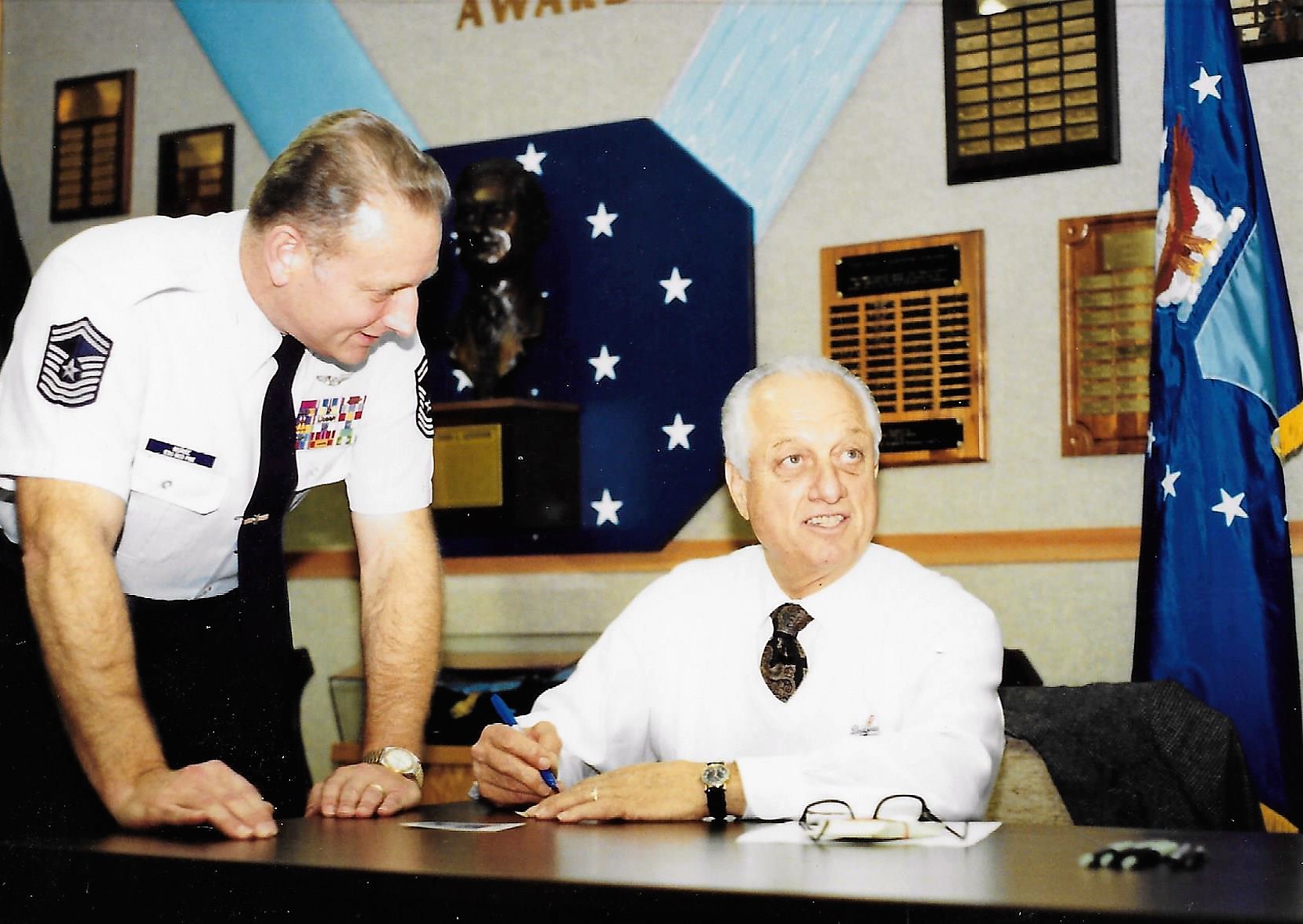 Tommy Lasorda signs an autograph for CMSgt Tom Nurre, co-manager of the EC-47 History Site, during a 1989 visit to the Electronic Security Command (successor to USAFSS) NCO Academy. At the time, Tom was Commandant of the Academy, a position he held from 1986 to 1990. Behind Tom is a bronze bust of A1C (E-4) John Levitow, the first USAF enlisted airman to receive the Medal of Honor during the Vietnam War.*
◊ ◊ ◊
Tom Nurre tells the Lasorda story: "At the academy, we brought In guest speakers to talk about all aspects of leadership, followership, problem-solving, and situational awareness on the job. One spectacular guest was Mr. Tommy Lasorda . . . Ol' Dodger Blue himself. Once he got In the auditorium and experienced the spirited interest from the class in his views about leadership, teamwork, and expectations, Tommy didn't want to leave — and he didn't."
"The wing commander, Col. Chuck Edwards, urged me a couple of times to adhere more closely to the protocol schedule, but I told him if he wanted to interrupt what was going on in that auditorium, he would have to do it himself!"
"Tommy stayed right there, even missing lunch, just to rub shoulders and sign autographs for the troops at Goodfellow. Colonel Edwards was probably not that happy with us that day, but he was pretty rational about the whole deal. Mr. Lasorda commented often about the NCO Academy during the remainder of his visit, so there was little the wing could really admonish us for. However, during the rest of our tenure together at Goodfellow, Col. Edwards would pull little pranks on me just to show who was in charge of the base!"
_____
* Two other airmen, CMSgt Richard Etchberger and A1C William Pitsenbarger, were posthumously awarded the MOH after review, decades later, of the actions in which they were killed.

Vietnam Veterans Recognition and Outreach
The EC-47 History Site maintains a long-standing partnership with The United States of America Vietnam War Commemoration—a national 50th anniversary commemoration, authorized by Congress, established under the secretary of defense, and launched in 2012. In that time, through the efforts of ec47.com co-manager Tom Nurre, Shannon Sturm of Angelo State University's West Texas Collection, and the Heritage Chapter of the Freedom Through Vigilance Association, hundreds of Vietnam veterans have received the 50th anniversary commemoration lapel pin and Certificate of Honor at squadron reunions and various civic events in San Angelo and elsewhere.
The Commemorative Partner Program also recognizes four other categories of veterans and their immediate families: "In Memory of" those veterans whose names appear on the Vietnam Veterans Memorial in Washington, D.C.; "Unaccounted For" American veterans of the Vietnam War listed as missing and unaccounted for by the Department of Defense; Americans who were prisoners of war during the conflict in Southeast Asia, and surviving spouses of Vietnam veterans.
Veterans who are unable to travel or otherwise attend a public recognition ceremony may register for a "mail-out" package as part of the Commemorative Partner Program committee's outreach program. Click here for details of the program and to view short biographies and some great photos of our veterans.


The Legacy Site is still Right Here