Flashback to July 2021 news. . .
As we celebrate the 245th anniversary of the signing of our nation's Declaration of Independence, we'd like to share with our website visitors some recent activities honoring veterans in the San Angelo area.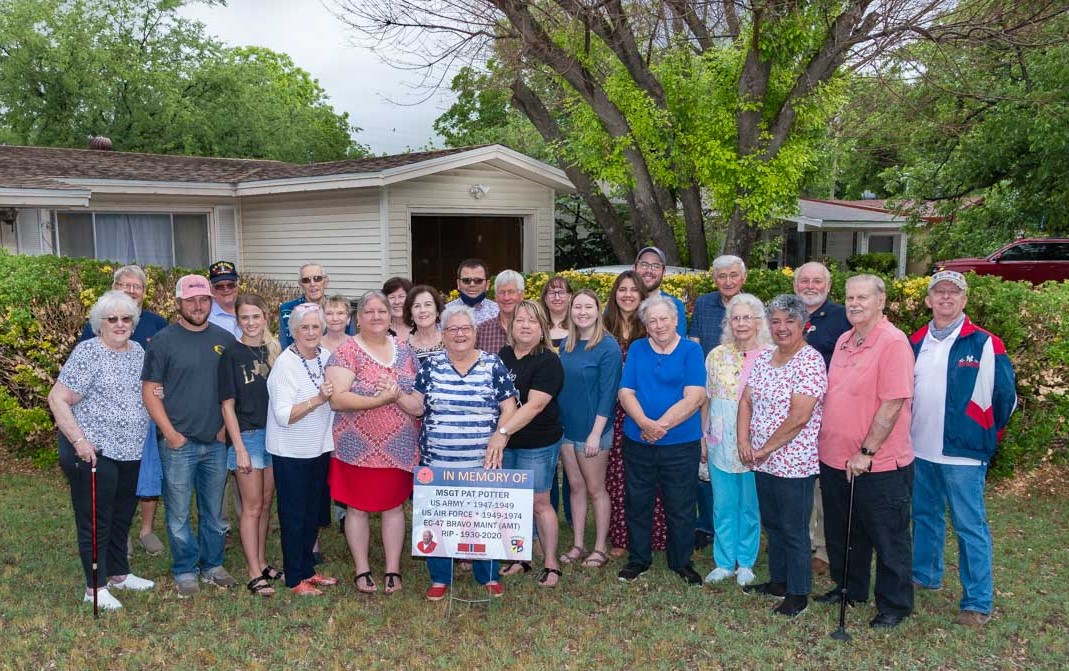 This happy crew is standing behind the "in memory of" yard sign honoring EC-47 Bravo Maintenance technician MSgt "Pat" Potter. FTVA Heritage Chapter prez J.J. Graham is at the right end of the lineup. EC-47 History Site co-manager Tom Nurre is 3rd from right. USAF Dogger (Vietnamese linguist) Larry Miller is 4th from the left. As part of our ongoing Commemorative Partner Program recognizing Vietnam veterans and their surviving spouses, several other "yard sign" gatherings took place over the Memorial Day weekend. Several of these honored veterans and spouses from as far back as WWII.
Click HERE to view pix of all the activities. More of these ceremonies are in the works for the 4th of July holiday.

We also enjoy hosting those veterans who visit to Goodfellow AFB to view the static display aircraft, the yet-to-be dedicated EC-47 Memorial Plaza, and the ARDF History Exhibit inside the Norma Brown building. Robert Washburn, a former 6994th Security Squadron "203" (Vietnamese linguist) dropped by recently. Hundreds of EC-47 backenders passed through the Goodfellow schoolhouse, but Bob's experience was a little different than most. He ended up spending an entire summer at the base — and met his wife along the way. Read the whole story HERE.
Left: Bob and Marilyn Washburn in front of the ARDF display inside the 17th Wing HQ Building.
Right: 17th Wing historian Mark Howell presents Bob's certificate, flanked by Michael Looney (L) and Walt Koenig (R).
Memorial Plaza Dedication Update
Unfortunately, we don't have much to update. As noted in our CQ eMail of 7 June, the Leave Your Mark company is experiencing difficulty in rebuilding from the disastrous fire that destroyed their entire operation. Likewise, we have no word on when GAFB can be expected to return to "normal" operations, although we'd certainly expect that to happen by March, 2022. As always, stay tuned.
Site updated 02 Jul 2021