x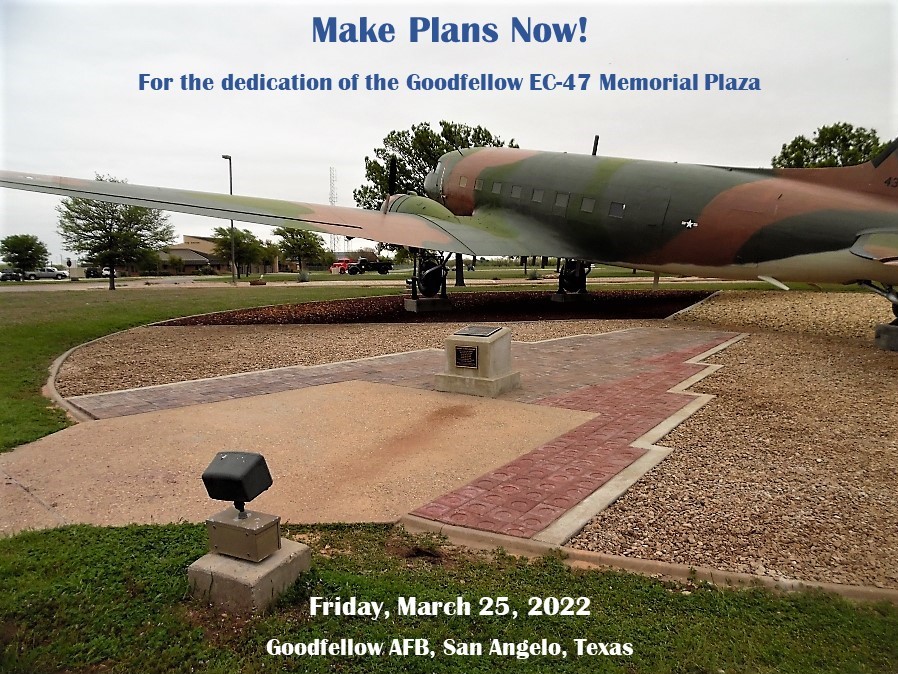 Updates as of 03 December 2021 are in red.

<< Who's planning to attend? >>
This list is very preliminary and represents only those former EC-47 troops who've indicated they plan to attend. We'll update weekly or so. If you're still undecided, take a look. If you see the name of someone you haven't seen in 50 years, come on down! We also expect a number of spouses, surving kin, and non-EC-47 veterans. All are welcome to join us in the Hospitality Hootch or anywere else during Paverfest 2022!
Not quite sure of someone? Within the limits of privacy, we'll try to help. Drop us a line.
What you need to know . . .
Where: In front of the Norma Brown Building, 351 Kearney Blvd, Goodfellow Air Force Base, Texas 76908. Click for a map.
When: The ceremony will begin promptly at 11:00 am, so plan accordingly. We recommend parking in the lot directly across the street.
Base Access: If you do not possess a valid military ID, you'll need to fill out the RSVP form linked here. RSVP forms must be received not later than Wednesday, 9 March. Enter the base by way of the GAFB Visitors Center and the Jacobson (south) Gate off Chadbourne Street. Base access with be good for three days, 25-27 March.
Reception: Following the ceremony, a no-charge reception will be held at the base Events Center. Your name tag will be your ticket to this and the Friday dinner. We need to plan accordingly, so as soon as you're reasonably sure you'll be with us, send in that RSVP.
"Gatherin' at the Goon": EC-47 veterans will be recognized in a group photo taken beside the replica.
Friday Night Dinner: We've reserved the RiverView Restaurant, with cash bar to open ~5:00 pm, followed by a FREE (for those unfamiliar with the term, it means you won't have to pay for it) "Texican" buffet dinner, with . . .
Openers: Chips & salsa/queso bar.

Main: Beef Brisket and/or Chicken Fajita w/rice, beans, tortillas, veggies & salad bar.

Dessert: Warm cobbler bar.

Drinks: Water, tea, coffee, lemonade, soda.
For this treat, we can thank the estate of WWII vet Cpl. Rocky Durso.


Other Stuff . . . .
Memorial Pavers: Can still be purchased, honoring veterans of any era. Click for details.
The Marriott Courtyard: Is offering a rate of $119.00 per night plus 15% tax for a three-day stay (Thursday-Sunday, 24-26 March.) Make your rez directly with the hotel, but be sure to mention EC-47 Gathering 2022. Reservations must be made by 1 February 2022 and are subject to the standard 48-hour cancellation policy.
Alternate Lodging Options: Click here for a Chamber of Commerce listing. We'll work on a sheet with some "what to see and do" info in San Angelo, so stay tuned.
Questions? Drop us a line: https://www.ec47.com/contact-us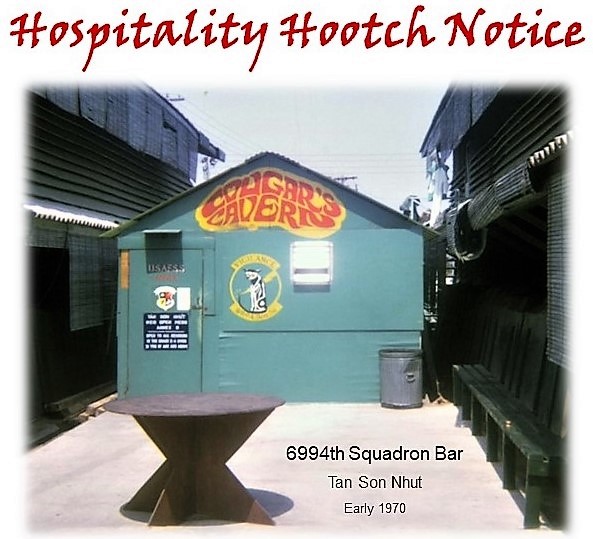 We think having a place to meet, embellish those war stories, or just to socialize in general should be an integral part of Paverfest 2022. The Courtyard has agreed to let us use a good-sized room as, in fond remembrance of our SEA service, what we've designated as the "Hospitality Hootch." That agreement allows the consumption of snacks and such beverages as we may choose to import.
However, one thing's gonna be different from the various EC-47 reunions held over the years: Since there's no registration fee for the plaza dedication events, all libations will have to be supplied by the patrons themselves. Now that can translate to (a) BYOB, (b) some sort of "pass the hat" arrangement, or (c) a combination of the two. We'll provide coolers, ice, cups, etc.
If we decide to have community breakfast in the hootch Friday or Saturday morning, we can have it delivered. The complete hotel menu is here. Meanwhile, if you have comments or ideas on how to make best use of the hootch, please give us a holler.