Spring Thaw ? ? ?
Maybe, but we've got a ways to go yet . . . .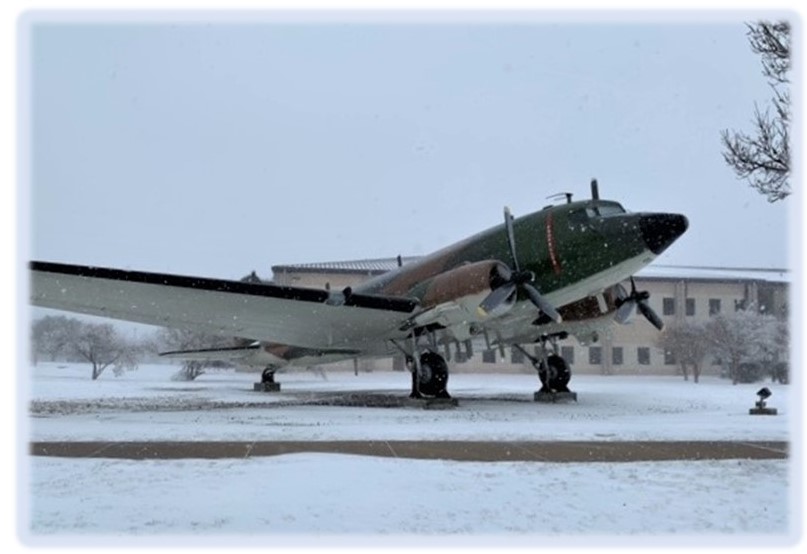 Danny Henderson snapped this shot of the Goodbuddy Goon back in Febfuary. Thanks Danny!
Unfortunately, the current situation has not mitigated sufficiently to permit Goodfellow AFB to host the dedication of the EC-47 Memorial Plaza planned for March 29. No word on when we may be able to reschedule. The 6994th Security Squadron reunion likewise remains up in the air. Check 6994th.com for updates.
San Angelo WWII Hero Remembered
Virtually everybody who spent time in USAFSS or its successor organizations passed through the Goodfellow School House somewhere along the line. Most of us got there by way of the local airport, Mathis Field, or San Angelo Regional Airport as it's now known. The field was named after a pair of San Angelo brothers, Jack and Mark Mathis, both of whom were killed in action in World War II. Jack, a B-17 lead bombardier, was awarded the Medal of Honor for a mission in which, mortally wounded by exploding German flak, he crawled back to his Norden bombsight and dropped the bomb load squarely on target. Jack was eventually laid to rest in Fairmount Cemetery, San Angelo.
Following in his brother's footsteps, Mark also became a bombardier and eventually wrangled an assignment to Jack's bomb group. On May 14, 1943, Mark was aboard a B-17 that was shot down over the North Sea. None of the crew was recovered.

Fast forward seventy-plus years. When San Angelo resident and former USAFSS linguist Larry Miller realized that there was no local memorial to Mark Mathis, he set about rectifying the oversight.
With help from the Heritage Chapter, FTVA, the requisite documentation was forwarded to the VA. In due course, a bronze marker arrived, to be placed in the Mathis family plot next to the graves of Jack and Mark Mathis, Senior. Mark's service and sacrifice was commemorated in a special ceremony held on February 28. Local dignitaries were in attendance, along with a bagpiper, a bugler, and re-enactment cannoneers who fired a ceremonial volley. Click here for more details and pix posted on our Commemorative Partners website.
♦ ♦ ♦
A tip o' the cap to Larry Miller for spearheading this effort. Larry was one of the USAFSS operators onboard RC-135 aircraft supporting the Son Tay Prison Raid in November of 1970. He also served with the 6908th Security Squadron in support of events at the end of the war, including Operation FREQUENT WIND, the extraction of all U.S. and many allied personnel from Saigon in April 1975.
♦ ♦ ♦
As always, the Legacy Site can be accessed right here. For other aspects of the EC-47 story, click on any of the bars at the left of the screen.
Site updated, 05 March 2021