Updated 17 November 2020

San Angelo Veterans Day Parade
Masks, social distancing, and other Covid 19 precautions dampened the mood a bit, but San Angelo's annual Veterans Day parade still marched on in style. After the parade, the EC-47 History Site Vietnam War Commemorative Partner Program representatives presented lapel pins and certificates to about 60 Vietnam veterans, surviving spouses, and a couple of Gulf War veteran sons of the widows. Click HERE for a full report and to view photos of all the day's events.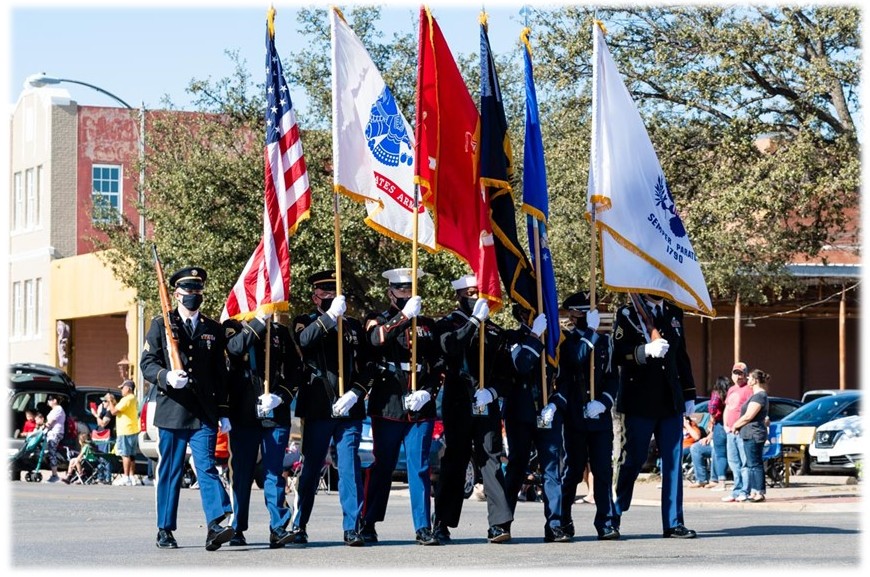 Goodfellow Hosts a Pair of Vietnam Vets
On 13 October, Goodfellow AFB welcomed former EC-47 flight engineer MSGT Jim Coffman and Lt. Col. (Ret.) Jack Mecham, who made the drive from Dayton, Ohio, to view the EC-47 Memorial Plaza and ARDF History Exhibit at Goodfellow. FTVA Heritage Chapter President J.J. Graham made special arrangements for base access during the Covid shutdown, and 17th Wing Historian Mark Howell MC'd a small ceremony to present Jim and Jack with 50th Anniversary pins and certificates, ably assisted by Command Chief Master Sergeant Casy Boomershine.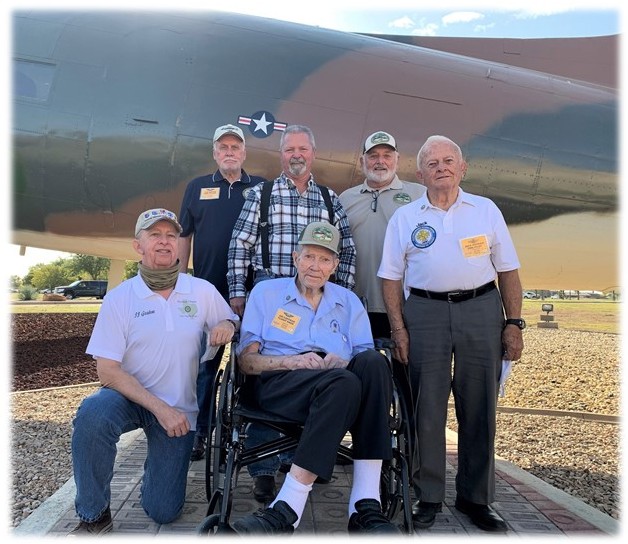 Back: Joe Martin, Mark Howell, Tom Nurre
Front: J.J. Graham, Jim Coffman, Jack Mecham
| | | |
| --- | --- | --- |
| | | |
| Jim's paver plaque. | Jim Tells CMSgt Boomershine how it was. | Jack wheels Jim to view his paver spot; J.J. escorts |
Click on each pic for a larger image. Click on this link for the compete Goodfellow article. All are USAF photos by A1C Ethan Sherwood.
* * * * *
On other fronts . . .
The EC-47 Memorial Plaza dedication has been postponed until 2021.
The 6994th Security Squadron Reunion is scheduled for 26-28 August 2021 in Mobile. See 6994th.com for details.
We're still trying to figure some sort of Guestbook alternative. Entries as of 3 June 2020 can still be searched here.
The "contact us" link is always active. We welcome your thoughts and opinions.
* * * * *
Nothing new from our paver supplier, but we hope they'll be up and running early next year. Existing orders will be filled one way or another. Click here for complete details on the plaza and the on-line order form.

Click here to view all the 8 x 8 plates received.






Click here to view all the 4 x 8 plates received.


Thanks to J.J. Graham, president of the (San Angelo) Heritage Chapter of FTVA, for these pix.
* * * * *
As always, everything on the site can be accessed by clicking on the black bars at the upper left. J.C. Wheeler's legacy site can be viewed here.